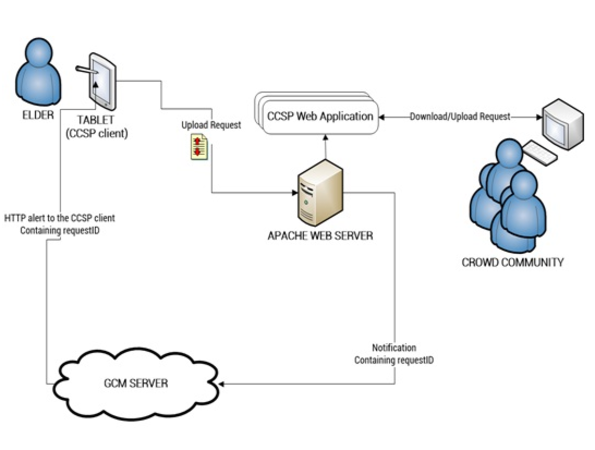 One of the initiative ideas to preserve indigenous knowledge of the rural communities in Namibia is to find affordable ways on how to develop ICT solutions. The rural communities do not have sufficient funds to afford to pay ICT experts to develop software applications. Moreover, there is not a large of Software Engineers in Namibia that would develop software application for free or at a low cost. Our research team is therefore looking at how the rural communities could outsource their software request needs to the crowd on the Internet that are willing to develop free software applications for the rural communities in Namibia.
In order to overcome this obstacle, we are in the process of developing a community crowdsourcing platform (CCSP). The CCSP takes into account the technical diversity of the technical people on the Internet and rural community communicating. Most rural community members in Namibia are not familiar with the usage of web based applications while technically versed people use web applications on a daily basis. However our usability evaluations have shown that rural community members of all ages are skilled to use tablets with minimal exploration time. It is therefore, that the CCSP prototype is portable to work on tablets with minimal instructions and reading as most rural community members in Namibia are semi-literate only. CCSP platform is being developed to have the following functionalities listed below:
To allow a community member to upload a request of any format e.g. text, audio, image, video, etc.
The request could be a 3D graphical design that the community member will use to portray their knowledge to the youth.
The uploaded request should be published to the Open Source Developers to design the graphics (crowdsourcing).
Once the open source graphic designers are done with their proposed solution/s they should be able to upload it to the CSSP.
Finally the community member should be able to download the preferable graphic to their tablet.
The CCSP application flow is depicted in the figure above.
The following design features are being considered in the development of CCSP:
Validation of uploading requests - CCSP platform should not allow irrelevant or offensive uploads from both community members and open source developers.
The platform should synergise the communication between community members and open source developers. A Strategy on how to attract and keep the open source developers interested in contributing to the community member's requests should be well thought off and implemented.
A Sound selection strategy of selecting the best proposed graphic should be implemented.
The CCSP platform above all quality attributes it should be easy to use and portable to cater for community members who are more familiar with the usage of mobile than ordinary web applications.
Appropriate design pattern should be well thought off and implemented.