In November 2014, lecturer and facilitator Gereon Koch Kapuire (Namibia University of Science and Technology) and PhD candidate Daniel G. Cabrero (University of West London and current exchange-researcher at Namibia University of Science and Technology) revisited a group of elders and one youngster in Erindiroukambe.
The aim of this visit was to suggest the participants to freely recount the differences between an elder and a younger as prompted narratives. Here also, we were searching for third-party descriptions rather than referring to the person herself, as this did not work with this ovaHerero community, who ended up stereotyping themselves.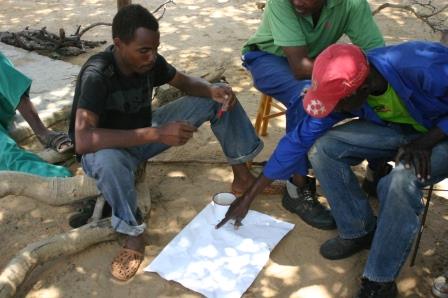 Participants recounted such differentiations and drew an elder in order to depict his positioning within the environment where this community develop their life.
As a scientific literary result, this session is included in a scientific paper published at the C&T'15 conference held in Limerick (Ireland) in June 2015.