In March 2015, and scaffolding from both, a first trip towards Persona Co-Design undertaken in October 2014 and the learning experiences obtained at that time, lecturer and facilitator Gereon Koch Kapuire (Namibia University of Science and Technology), PhD candidate Daniel G. Cabrero (University of West London and current exchange-researcher at Namibia University of Science and Technology), lecturer and facilitator Colin Stanley (Namibia University of Science and Technology) and Professor Heike Winschiers-Theophilus (Namibia University of Science and Technology and Cabrero's external supervisor) undertook a trip back to Okomakuara in order to find out both, (1) further data towards the Crowdsource System we are currently co-designing and co-developing with ovaHerero and ovaHimba communities in pastoral Namibia and (2) to keep probing methods to find data on User-Created Personas (UCP).
Three male and one female elder joined this session. They had never engaged in prior co-design with us. In regards to UCP, we have found in other ovaHerero settings that storytelling is the most fruitful method with ovaHerero communities. As such, we proposed the participants in this session to narrate a story of choice.
The participants narrated the story of how a young single male has got a young female pregnant and how the couple would inform the respective families and took the responsibilities upon the pregnancy, with this leading to marriage and how the couple would ideally be and behave regarding traits, behaviours, skills learnt and gained; also on the duties to carry out once they got married.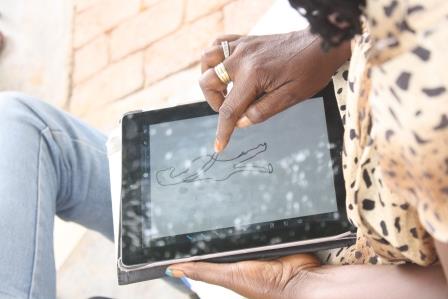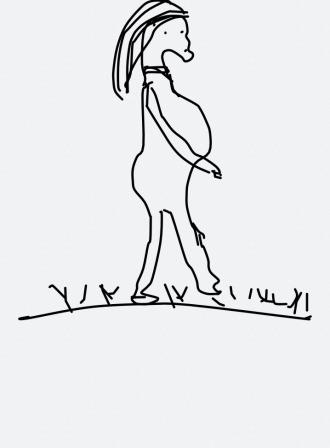 After the recount the female participant was enticed to draw the pregnant girl on an IPad.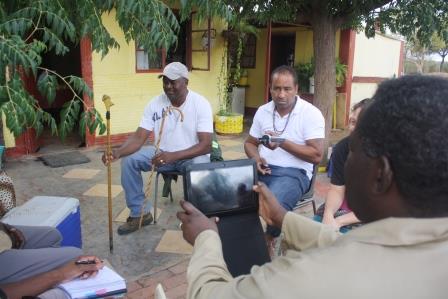 The participants then detailed practises of "the stick" the Elder (the father of the bride), which would be given to the bride on her journey to her parents-in-laws, and brought back with her later. Participants, hence, fetched a number of sticks from the house owner to explain the diverse connotations that these carry, which provides of further detail on the importance the stick and the implicit and diverse meanings the stick carries depending on moments, contexts, carriers, etc.
As a scientific literary result, this session is included in both, a scientific paper published at the CaTaC'16 conference to be held in London (UK) in June 2016 and an upcoming publication at an international conference to be held in Aarhus, Denmark, in August 2016.